William Pennington Vann, PhD. Celebration of Life - September 11, 2022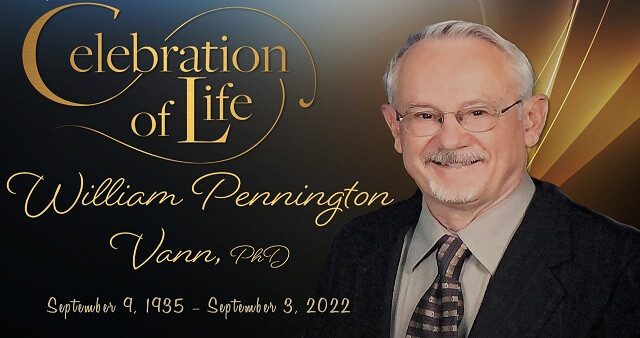 Dr. William Pennington, "Penny," Vann died Saturday, September 3, 2022, at the age of 86. His wife, Joy, his children, several grandchildren, and other close family members were with him as he passed.
Penny was born September 9, 1935, in Belton, Texas, to William Harvey and Osee Maedgen Vann. He was Valedictorian and President of his Senior Class at Belton High School, as well as All-District Quarter-back. He attended Columbia University, earning Bachelor's and Master's degrees in Civil Engineering. He then earned a PhD. in Civil Engineering from Rice University.
Dr. Vann taught at Rice for 6 years before joining the faculty of Civil Engineering at Texas Tech. He taught at Tech for 32 years, with more than 40 years of design, research, and consulting experience focused primarily on structural engineering. He served as advisor to Chi Epsilon (National C.E. Honorary Society) for 30 years. He was a member, often as chair, of more than 40 university committees. He authored approximately 40 technical publications in civil engineering. He developed courses still in use by Texas Tech, including "Principles of Design," "Team Design," and "Ethics in Engineering," among others.
Dr. Vann was a member and president of the American Society of Civil Engineers, High Plains Branch. He was a member and president of the Texas Society of Professional Engineers, South Plains Chapter. He consulted with many organizations, primarily regarding structural responses to earthquake, wind, and blast effects. He worked at Patrick Air force Base, Cape Canaveral, conducting classified risk analysis associated with Space Shuttle Launches.
Penny was a founding director of Lubbock Habitat for Humanity. He served over 4 decades on its Board of Directors as president, vice president, and secretary. He was a member of Habitat's Regional Board, and served as chairman of the SW Regional Committee overseeing Texas and Oklahoma. He served terms as Director of Lubbock Habitat for Humanity, and for the Lower Rio Grande Valley, declining a salary with both organizations.